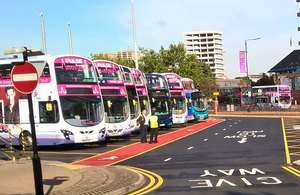 Secretary of State Grant Shapps: 17 May, 2022 
In 1285 in Ockham, Surrey, a monk called William was born. The humble theologian proffered that "Entities are not to be multiplied without necessity." In plain English, this defines that for the most part, the solution to a problem is usually the simplest one.
For many people across this country, getting on with simplifying journeys was one of the reasons why they backed this Government in such huge numbers. Connecting people and the places they frequent every day is crucial. It's the difference between being able to pop out to pick up some milk and having to plan your day around your travel arrangements.
Well, we're in government to get people where they need to go, and to make those trips as green and easy as possible. I've explained elsewhere why we're pressing ahead with ambitious plans for roads, transport decarbonisation, walking and cycling. I've talked at length about our largest ever £96 billion rail investment to transform train connections across the North and Midlands. And recently, I set out how we'd be spending £7 billion to level up transport services around the country, in particular, buses.
Buses are the beating heart of our transport system. The service that most of us rely on to make the regular journeys that matter most in our lives, also happen to be the simplest. Before the pandemic, we were taking 4 billion bus journeys a year – more than twice as many as trains. But I am all too aware that the quality of bus provision across England varies markedly. In London, Harrogate and Brighton for example, passengers enjoy fast, frequent, clean buses in dedicated lanes. Operators and local transport authorities work in harmony, and as a result, huge numbers of car owners have gone back to taking the bus. But in far too many cities and towns, services are poor and patronage is declining. We are absolutely determined to reverse that decline, so in future years the bus can become the natural choice for the vast majority of local journeys in and around our towns and cities.
The programme we have just announced will see 31 counties, city regions and unitary authorities receiving funding to vastly improve local bus services. Including earlier awards, just under two-thirds of England's population outside London will receive new investment to make buses more frequent, more reliable, cheaper and greener.
Areas set to benefit from Bus Service Improvement investment include Greater Manchester, West Yorkshire and the North East, which together have been awarded almost £330 million. York, Warrington, Blackburn with Darwen and North East Lincolnshire will also receive a share to boost local buses.
On top of this funding, I confirmed £5.7 billion for England's eight city regions – including five in the North. Greater Manchester, West Yorkshire, South Yorkshire, Tees Valley and Liverpool will get funding to level-up bus, tram, walking and cycling networks. The money will help deliver, amongst other things, a new mass transit network in West Yorkshire, and a flat fare on buses in Greater Manchester.
Predictably, some northern mayors complained that the funding wasn't as much as they'd asked for. I understand they are fighting for as much investment as possible for their communities – indeed, this is one of the reasons why we created the new Mayoral Authorities. But they must recognise that we are providing £3 billion of new money for buses over the course of this parliament – a huge sum at a tough time for public finances – and we have carried through our promise to fund those areas with the best plans for their bus networks.
Although Andy Burnham in Greater Manchester says he wants more money, we're delivering £94.8 million for the region's Bus Service Improvement Plan, and over £1 billion to help him boost local transport, including a new interchange in Bury, new electric buses, new bus lanes and junctions, and improvements to fares, ticketing and bus passenger information.